Ch. 47. 'Jazz Gigs in LA' and the Return to Brondesbury Park.
Work for our new small group started to trickle in with an occasional gig here or there and the inevitable personnel changes that occur in a developing enterprise. For the first two or three years we had a fairly stable line-up of Gary on keyboard, Matt Otto or Javier Vergara, tenor sax, Ryan McGillicuddy, bass, Brian McLaughlin or Ryan Doyle on drums with the inevitable sub from time to time.
The following list of venues likely won't be of interest to those unfamiliar with LA and Southern California in general so you might want to skip this paragraph. The establishments which we were fortunate to perform at from time to time were Holly Street Bar & Grill (now Eden Garden), Pasadena; Table Ten, Fullerton; Peninsula Grill, Palos Verdes; the Olde Ship, Santa Ana; Lacy's 51 Kitchen Café, Studio City; Hollywood Studio Bar & Grill; Coffee Gallery, Altadena; Ralph Brennan's Jazz Kitchen, Disneyland; The Rack, Woodland Hills; Jazz Bakery, Culver City; Phlight Nightclub, Whittier; Café Roma, LA; Vinoteque, Melrose, LA; The Spot, Pasadena; The Roasthouse, Santa Clarita; Hip Kitty Jazz Lounge, Claremont; Shutters Hotel, Santa Monica; Tam O'Shanter Steakhouse, Los Feliz, LA; Four Points Sheraton Hotel, LAX; 2nd Street Bar & Grill, Little Tokyo; the Blue Café, Long Beach; First & Hope Supper Club, Downtown LA; Catalina Bar & Grill, Hollywood; and the Spazio Caffe, Santa Monica. Regular venues at different times, in addition to the aforementioned Lunaria Nightclub, in Beverly Hills and Brits Pub & Restaurant in Pasadena, were Down Beat Café, Echo Park, LA; Maggiano's Little Italy, The Grove, LA; Sheraton Delfina Hotel, Santa Monica; Café 322, Sierra Madre; The Biltmore Hotel, Pershing Square, LA; Jax Bar & Grill, Glendale; Ritz Carlton Hotel (now The Langham), Pasadena; and Chop Suey Far Bar, Little Tokyo, LA.
When I was fairly sure that I'd looked everywhere I could think of for dates and gig venues, I was pleasantly surprised at the numbers of clubs, restaurants and hotels where we'd played. It wasn't easy finding the information; I'm not the most organized of folk to which my sainted wife will readily testify. Old diaries, scratch pads, calendars, even old napkins from restaurants we'd played for would reveal the valuable data. This was the early 2000s and, smart phones hadn't quite been introduced and so keeping records still required a bit more self-discipline than it does now. I'd love to have listed every wonderful musician I'd ever worked with but that would have required a search effort ultimately resulting in a marathon, less than riveting epistle, certainly not a page turner.
The musicians for the most part, around the same ages as my kids or younger, tended to be graduates or under-graduates from jazz programs in the leading Southern California music schools, such as the University of Southern California (USC) Thornton, California Institute of the Arts (CalArts), California State University (CalState) Northridge, CalState Fullerton and CalState Long Beach. Of course, many came from out of state also, both graduates from some of the leading music schools in the country and many others either privately or self-taught.
One of the young recent graduates from the Thornton School of Music School at UCLA, John Schroeder, had auditioned for the lead guitar post with Frankie Valli's band. He was given the gig and toured with them for years including performing at the Royal Albert Hall – where he met Jimmy Page after the show, but he'd always show up and play for us when he was in town. He has also worked with Al Jarreau, Patrice Rushen, the Steve Miller Band and spent two weeks on Broadway playing with the Chicago Symphony Orchestra. The last I heard he had joined the TV show, 'Dancing with the Stars' orchestra, the US version of 'Strictly Come Dancing' and he's only 28! Gary Fukushima, who graduated from a Jazz Composition Masters' Program at CalArts, and who I've referred to in earlier chapters, became my pianist and arranger and I was privileged to work with him for almost ten-years. I was further privileged to have been accompanied on my CDs by a number of world-renowned jazz musicians. These included, Larry Koonse, Darek Oles, Joe LaBarbera, Roy McCurdy, Nolan Shaheed and Mike Shapiro (who sadly died in December 2021). Google any of these names and you'll find each reveals a hugely impressive track record of work.
The studios used for the recordings were O'Henry Sound Studios in Burbank which has since closed but was opened and originally owned by Hank Sinacola, who was a long-time manager of Frank Sinatra. The studios had been used by such artists as Ray Charles, Maria Carey, R.E.M., k.d. lang and Ray Conniff. Movie soundtracks recorded there included King Kong (2005), Austin Powers movies (1997) & (1999), The Jungle Book (2003), Return to Never Land (2002) and Reece Witherspoon's Election (1999). The second and third albums were both recorded at Nolan Shaheed's Studio in Pasadena, California.
The second album was called 'Let's…' and featured 16 songs covering a variety of musical genres including swing, ballads, r&b .. .. .. etc. Its name, an abbreviation of the title of the first song on the album, 'Let's Fall in Love', was, I believe, the only number that I didn't choose myself. What happened was that one day when we were rehearsing at Gary's former home in Atwater Village, LA, he asked me to listen to a version of the tune played at breakneck speed by Oscar Peterson, and further if I could not only sing it, but also write some words for the 'shout chorus'. In short, the shout chorus is usually the culmination of a big band arrangement, a section exclusively written by each arranger of his particular big band version. If you're interested, you can Google 'Shout Chorus' for a fuller description and explanation of its big band origins. Well, anyway, we managed to perform the number, albeit a tad more slowly than Oscar and, instead of writing new words for the shout chorus, I took the lyrics from the opening verse of the song, the section of great popular standards that is often, but not always, performed prior to the commencement of the more familiar melody; in this case, "I have a feeling. It's a feeling I'm concealing. Don't know why…" In other words, I mangled the words to fit the tune of Oscar's shout chorus tacked on to the end of the number. My main claim to fame with this tune is that it was played on Russell Davies' BBC Radio 2 national Sunday afternoon programme. Many of the other tracks were played on several BBC and other regional and international jazz stations.
Flashback to Chapter 4, Brondesbury Park:
https://m.facebook.com/story.php?story_fbid=pfbid0spJp8DeHhoUs3L7o44FP8uZiv2W7Cvgoc5fMKVvsDKtoDwpzcBwPjWaYT1aC36GPl&id=100002364252863&mibextid=qC1gEa
An event which I had completely forgotten about came back to me recently for reasons quite beyond me and which I feel compelled to add to a narrative contained in Chapter 4 of 'Out of the Camp'. If you haven't read it or have forgotten the story of my stillborn modelling career, let me just say that I believe that I'm guilty of having inflicted an injustice on my photographer friend, "James", in the way in which I depicted him and wound up that chapter. (See link above.)
Weeks before the two consequential rendezvous at his home, he'd introduced me to a very prominent City of London solicitor, Harry Goodrich, who had expressed an interest in investing in a 'pop-music' (60s term!) venture but hadn't yet found anything which appealed to him. James had earlier told him about me, and Mr. Goodrich – I couldn't bring myself to call him 'Harry' – had expressed an interest in meeting me. He was an elderly gent and had the air of someone of great stature and accomplishment who apparently wielded considerable influence and, like other such people I'd met during my years in London, was extremely amiable and very approachable. I didn't have much in the way of demos back then but enough, evidently, together with whatever James had told him about me, for him to want to meet me. James and I travelled to his office off Fleet Street, a stone's throw from St. Paul's Cathedral. "The City", as it's referred to, is approximately one mile square and is the UK equivalent of the US' Wall Street, accommodating as it does, the country's major financial institutions, insurance corporations, legal and accounting firms, and corporate headquarters. Many of the buildings in the area were designed by Sir Christopher Wren following the Great Fire of London and the edifice housing Mr. Goodrich's offices were of such baroque style. We entered a huge, imposing entry hall and were shown into a large waiting room furnished with several Chesterfield sofas and other expensive-looking pieces of furniture. I remember the walls being covered with an elaborate, floral-patterned, flock wallpaper upon which were mounted several large old paintings. The place reeked of 'old money', lots of it! After a few minutes Mr. Goodrich bounced into the room and, following introductions, told us he'd called for his car and that we'd go out for breakfast. As we waited, we chatted, getting to know each other a little until an interior door opened and a girl popped her head in and told Mr. Goodrich that the car was ready.
When we stepped into the street a gleaming, light grey Rolls Royce was waiting for us with a smartly uniformed chauffeur standing ready with both curbside doors open. Mr. Goodrich directed James to get in the front and I joined him in the back for the 10-minute drive to the restaurant. As it turned out our destination was the Great Eastern Hotel (now, the Hyatt-owned, Andaz London Liverpool Street) and, after all these years I don't remember whether we had breakfast, brunch or just coffee. All I do remember is sitting in the bright, elegant, grand old dining room and, while driving over in the car, telling Mr. Goodrich that I'd never been in a Rolls Royce before, at which he just smiled. He did, I recall, engage me in conversation mainly asking me about myself but it was very brief as was the late-morning drive to the hotel. The Great Eastern Hotel, as it was originally, was built in 1884 and was one of the British Transport Hotel chain properties located adjacent major railway stations throughout the UK. Britain's private railway companies pioneered the concept of the railway hotel, initially at locations such as London Euston and Birmingham Curzon Street where hotels were opened at the start of trunk railway operations in 1839. Most of the railway companies followed suit, and by 1913 there were 93 railway owned hotels.
In any event, the meeting was very cordial, and Mr. Goodrich expressed great enthusiasm around the idea of entering the music business and making me the first signing to the new artist management business he was planning. He promised James and I that he would be speaking to some friends and clients about the venture and that he'd be in touch in due course. We returned to Mr. Goodrich's office where we parted amicably. As James and I walked back to the tube station James assured me that 'Harry' was a straightforward guy that he'd known and had dealt with for many years, and that when he made a commitment, he could be relied upon to honor it. It was several months before I heard anything further and, when I did get the call from James that Harry was ready to proceed, I had already joined Rare Amber and was signed exclusively to Class International, and no longer available nor able to be involved. Understandably, James was very annoyed having gone to the trouble of setting up the meeting with such a prominent member of the legal establishment. I explained that I hadn't heard anything for a considerable amount of time, and then this opportunity had presented itself so what was I expected to do. He, of course, understood but nonetheless was very put out by the development. I, naturally, with hindsight wondered what might have happened if…
n.b. The Rare Amber story is featured in Chapter 5 of Out of the Camp.
Jazz Bakery, Culver City. Los Angeles.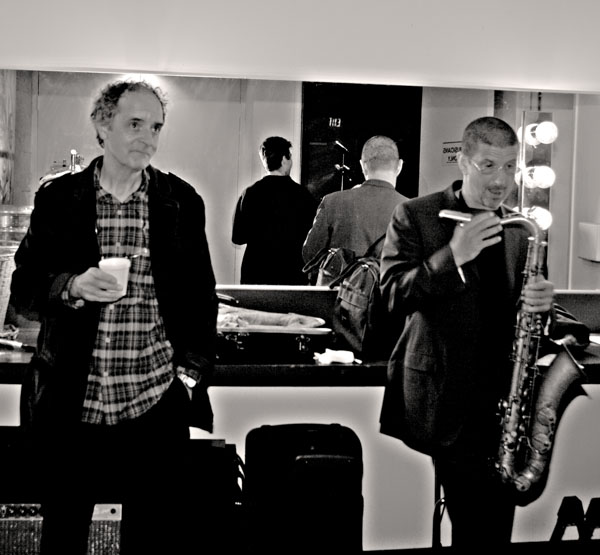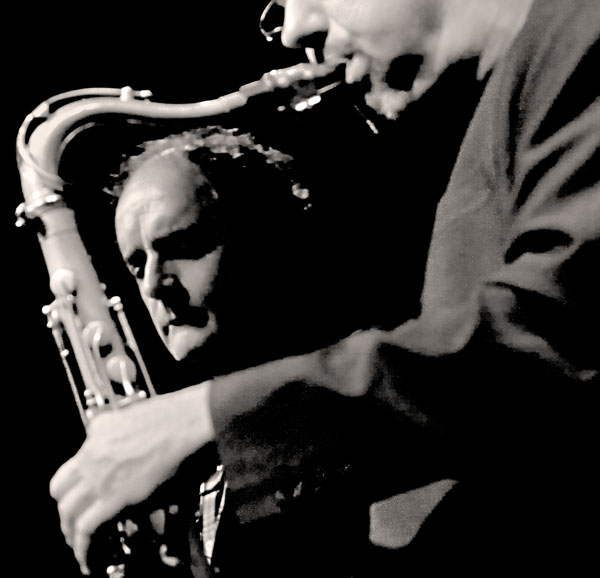 … and onstage at the Jazz Bakery.
Far Bar, Chop Suey Restaurant, Little Tokyo, Los Angeles.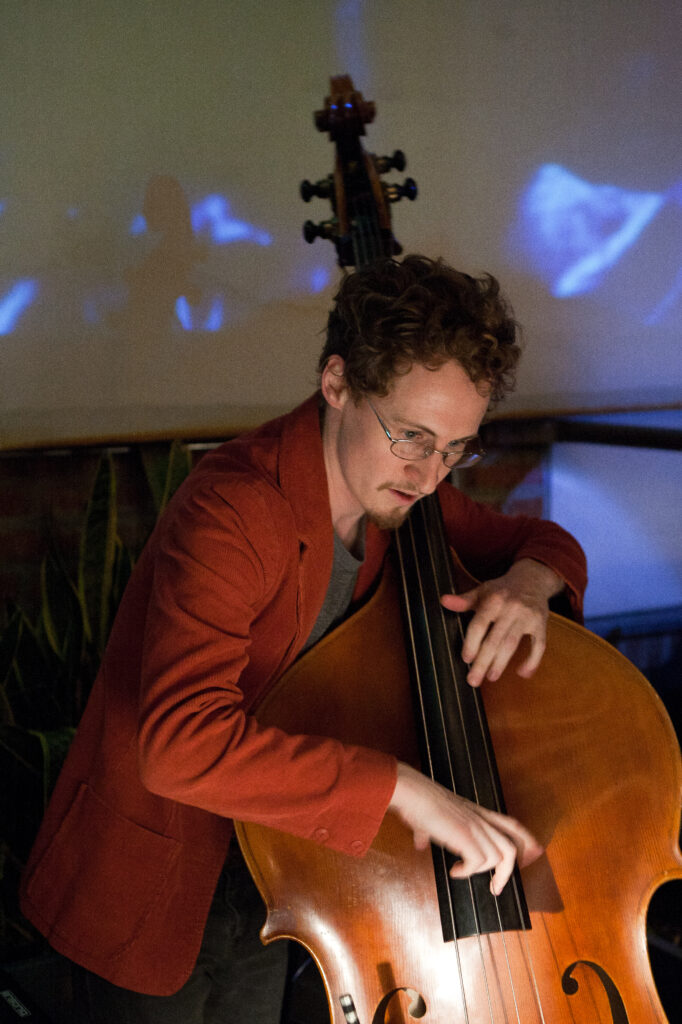 Chris Hackman & Damon Zick at the Far Bar, Chop Suey, Los Angeles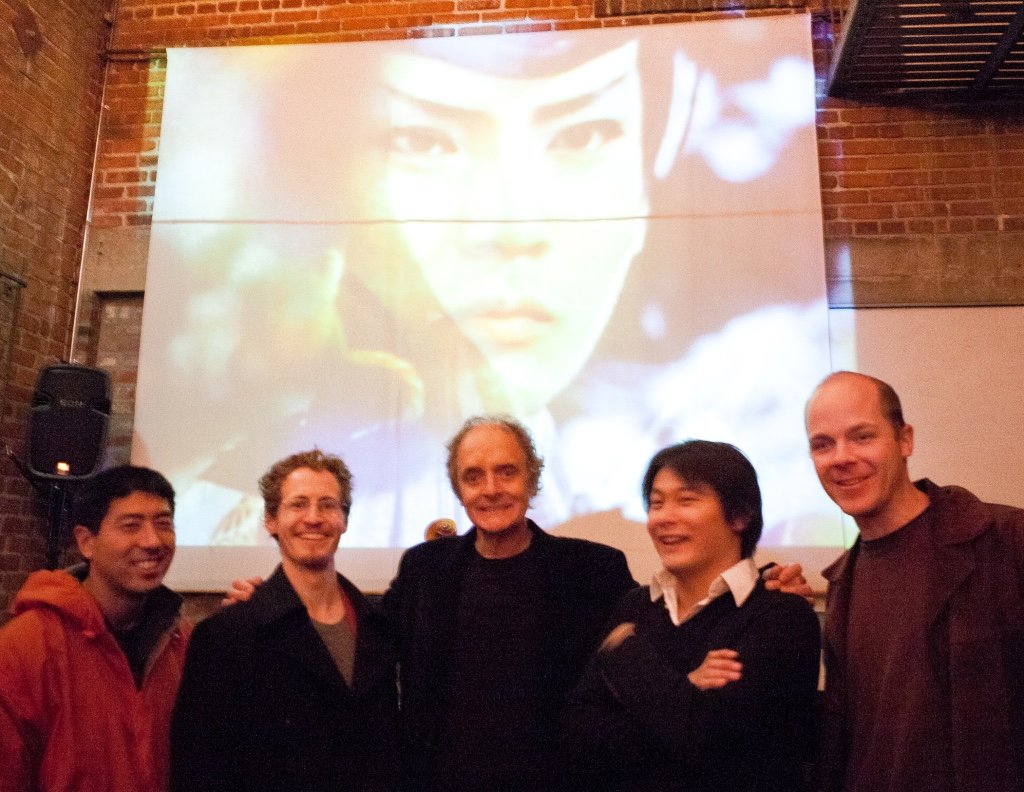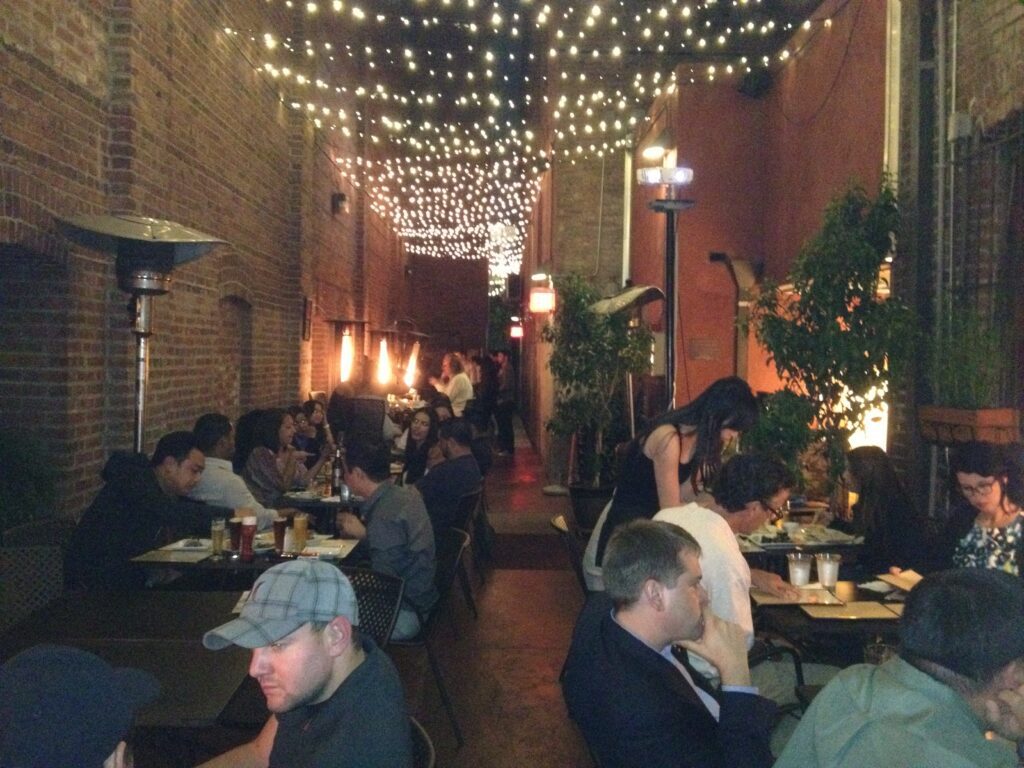 A busy night in the Chop Suey Far Bar, L.A.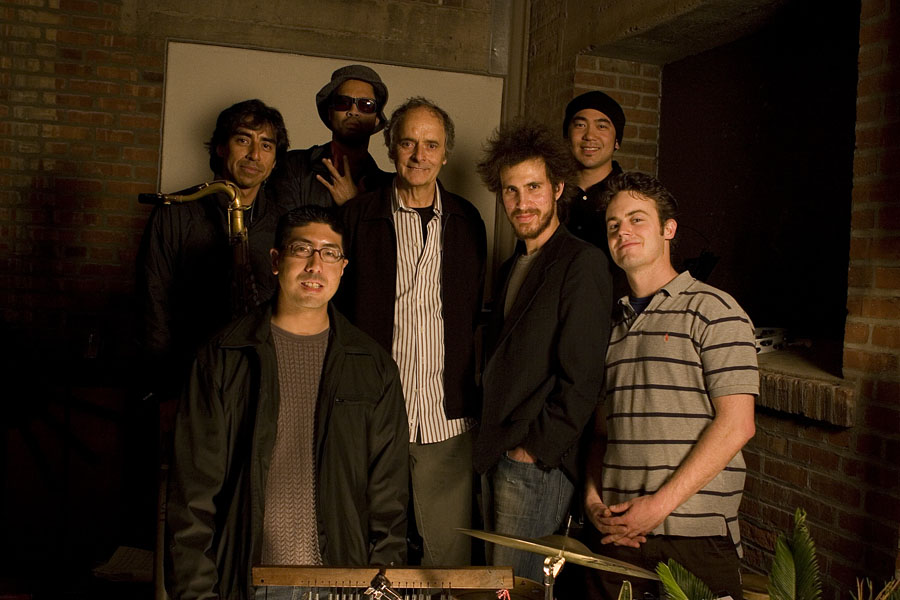 L-R: Javier Vergara, Gary Fukushima, JP Maramba, Roger Cairns, Christian Wunderlick, Miles Senzaki & Bobby Wilmore @ the Far Bar.
O'Henry Sound Studios, Burbank.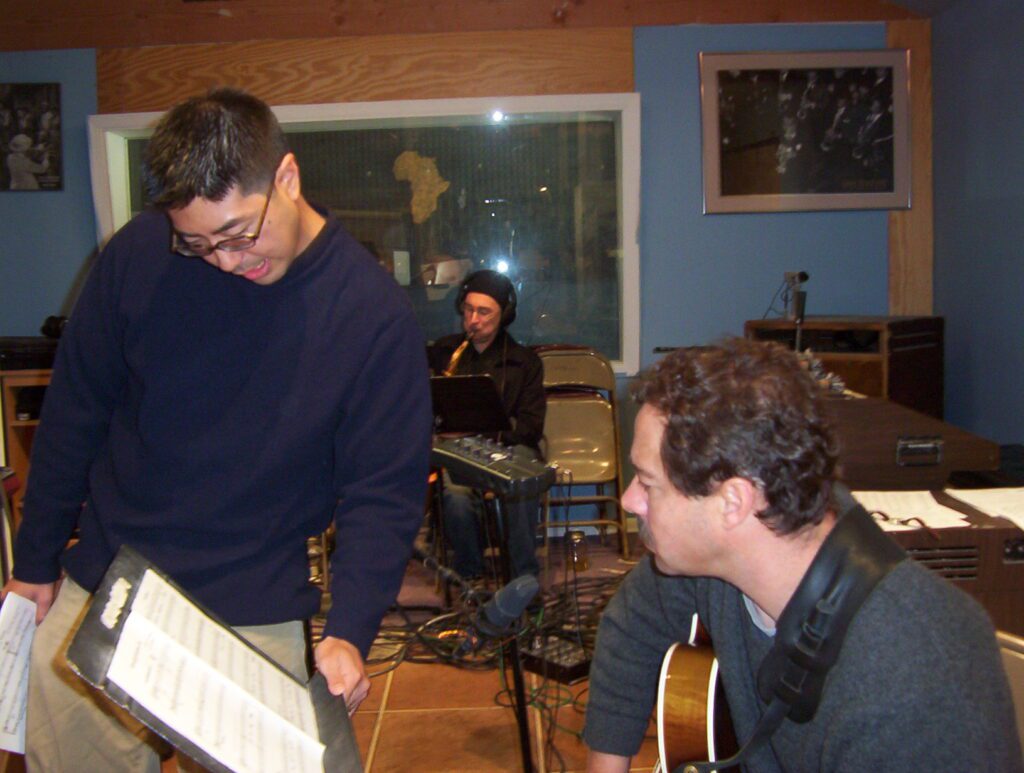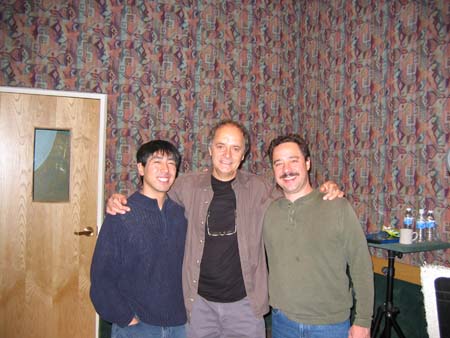 Gary Fukushima, Roger Cairns and Larry Koonse @ O'Henry Sound Studios, Burbank during the recording of 'A Scot in L.A.' (2006)
Ritz Carlton Hotel (now the Langham), Pasadena.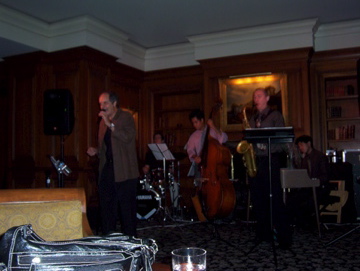 Cafe 322, Sierra Madre, Pasadena, CA.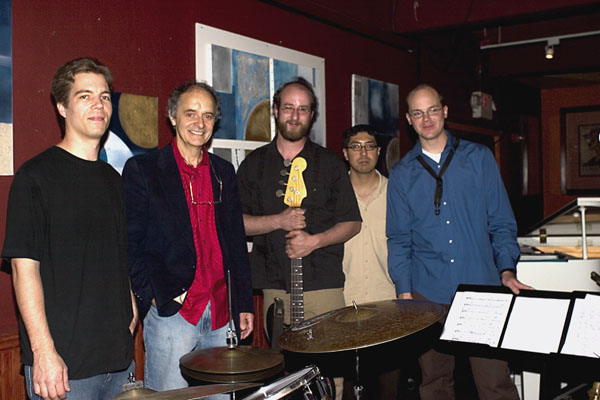 Brits Pub & Restaurant, Pasadena, CA.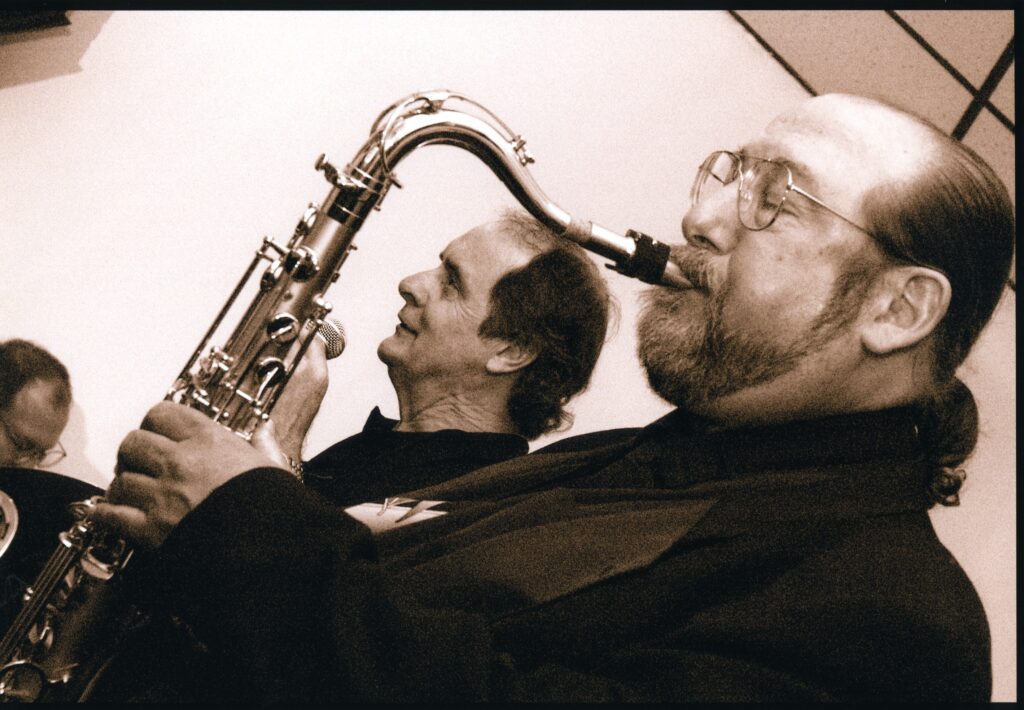 Brian Newbury, Roger Cairns & Graham Dorsey at Brits Pub & restaurant, Pasadena.